CORONAVIRUS INFORMATION - See Parents & Carers Latest Events for September return dates
Parents letters and key information on this page.
New
Please see the attached advice for parents and carers about the main risks children may be particularly vulnerable to at this time and information about available help and support.
https://www.gov.uk/government/publications/coronavirus-covid-19-keeping-children-safe-from-abuse-and-harm
Home Learning Resources:
To find our home learning resources, please click on the tab above - Parents/Carers. You will find a wealth of activities to do at home with your child by clicking on the Home Learning Resources on the left hand side of the Parents and Carers page.
Helpful Wellbeing Support for families:
To help during this challenging time, please read the helpful government guidance in the two links below. This will help ensure that you and your family's wellbeing remains positive.
NEW!
Coronavirus – A book for children - Axel Scheffler (illustrator of The Gruffalo) has illustrated a digital book, to read on screen or print out, about the coronavirus and the measures taken to control it.
https://www.gov.uk/government/publications/covid-19-guidance-on-supporting-children-and-young-peoples-mental-health-and-wellbeing
https://www.gov.uk/government/publications/covid-19-guidance-for-the-public-on-mental-health-and-wellbeing
New Helpline Goes Live To Support People's Mental Health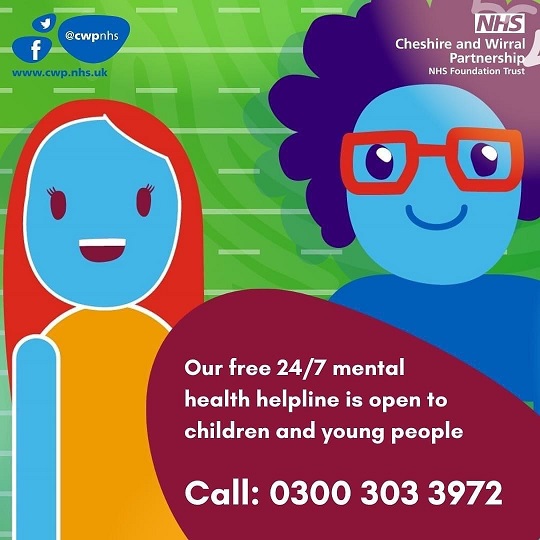 Local NHS Trust, Cheshire and Wirral Partnership (CWP), has launched a new mental health helpline.
Open 24 hours a day, seven-days a week, it is open to people of all ages including children and young people who need urgent mental health support. The helpline - 0300 303 3972.
What to do if you need urgent mental health help:
Please call 0300 303 3972 and our dedicated local NHS staff will support you to access the help you need.

The helpline is open 24 hours a day, seven days a week and is open to people of all ages – including children and young people.

The helpline is now the first port of call for mental health help – it is operated by people in your local area who will know how best to support you. If you call NHS111 you may have to wait longer for help and will be re-directed to this local service – so call 0300 303 3972.

Please note, A&E and 999 are not the best places to get help for the majority of mental health problems – call 0300 303 3972 to be directed to the best local service to support you.

You should still call 999 or go to A&E if you have an immediate, life-threatening emergency requiring mental or physical health assistance.

For non-urgent help and general wellbeing advice, the CWP website contains information and links to resources to support people with anxiety, low mood, and worries relating to the current Covid-19 pandemic www.cwp.nhs.uk

For children and young people there is also a dedicated website MyMind.org.uk
Advice for parents during coronavirus
Whilst it is extremely important to follow Government advice to stay at home during this period, it can be confusing to know what to do when your child is unwell or injured. Remember that NHS 111, GPs and hospitals are still providing the same safe care that they have always done. Here is some advice to help. Please see the document at the bottom of the page for the full document.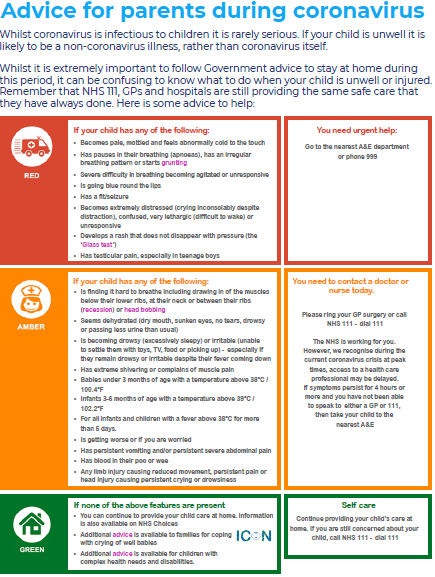 Year 11 Students and Parents - Information on the awarding of qualifications
Oaklands' staff are working with the exam boards to make sure you get the recognition you deserve.
Since the Secretary of State for Education announced that the 2020 exam series in England would be cancelled to help fight the spread of Coronavirus (COVID-19), OFQUAL have worked at speed to develop a process which fairly recognises students' work and makes sure they get their grades in time to progress. You will find on this page details about how qualifications will be awarded this summer, further guidance for teachers, students, parents and carers and an open letter to students who were expecting to be taking their exams this summer.
Letter to students:
https:/Letter to students-Summer 2020 grading.pdf
Information for Parents:
https://Summer 2020 grades for GCSE AS A level EPQ AEA guidance for teachers students parents
Safeguarding:
Oaklands School is committed to safeguarding and promoting the welfare of children.
We recognise that this may be a difficult time for some families. If you need to speak to a member of staff, please contact the school office during working hours (term-time only).
Email: Office@oaklandsschool.org
Telephone: 01606 551048
If you have any concerns regarding your family's safety, then act appropriately by contacting the relevant emergency numbers or social care where necessary using the contact details provided below.
Our local safeguarding contact numbers are:

Safeguarding of children concerns
(Children living in Cheshire West)

Cheshire West

0300 123 7047

Integrated Access and Referral Team (i-ART).

01244 977277 (Out of Hours Service)

Safeguarding of children concerns
(Children living in other Authorities)

Cheshire East

0300 123 5012 option 2

Cheshire East Consultation Service

0300 123 5022 (Out of Hours Service)

Flintshire
01352 701 000
0345 053 3116 (Out of Hours Service)

Wrexham
01978 292 039
0345 053 3116 (Out of Hours Service)

Police (Emergency)

Police (Non Emergency)

999

101
CWAC Community Response Group:
Cheshire West and Chester Local Authority have launched a dedicated helpline to support those vulnerable groups living in west Cheshire at higher risk from serious complications as a result of coronavirus (COVID-19) infection. Please click the link below for further information.
https://www.cheshirewestandchester.gov.uk/news-and-views/incidents/coronavirus-covid-19/how-to-get-help/dedicated-helpline.aspx
Keeping Safe Online
At a time when your child may be using the internet more than usual to learn and play it is important to remember there are also risks involved. Below we have provided some links giving information on how to ensure yourself and your child are staying safe when online. This includes advice and guidance and also free downloadable resources that you can do together.
https://www.childnet.com/blog/keeping-children-happy-and-safe-online-during-covid-19
https://www.esafety.gov.au/about-us/blog/covid-19-online-safety-kit-parents-and-carers
https://www.thinkuknow.co.uk/parents/Support-tools/home-activity-worksheets/
For more information and up-date news relating to e-safety visit the esafety page found below:

How to deal with anxiety and mental health:
Please see the link below for advice on keeping well and guidance on how to deal with feelings of anxiety during this time:
https://www.bbc.co.uk/news/health-51873799
https://www.gov.uk/government/publications/covid-19-guidance-on-supporting-children-and-young-peoples-mental-health-and-wellbeing
LETTERS:
To view letters sent between February 2020 and June 2020 please see: Parents/Carers/Coronavirus Past letters.