Creative Art


ART
Every student studies Art during their time at Oaklands. Each pupil is given full access to the Key Stage Three and Key Stage Four National Curriculum.
Throughout both key stages, Art is delivered to provide interest and engagement within all lessons. We provide a learning environment with outstanding facilities where every learner can experiment, and develop skills, knowledge and understanding to enhance their own individual styles working towards key stage four qualifications.
Team:
The Creative Art team consists of one full-time teacher and a specialised teaching assistant who offer a range of experience as well as experienced teaching assistants to support.
Achievement and progress:
Year 7, Year 8 and Year 9 are taught in year groups for a double lesson per week.
Year 10 and 11 are in two groups - one for Entry Level Art and one for GCSE Art and Design – they continue in these groups until the end of key stage four as each course is run over two years. Currently, they have a block of three lessons per week.
The schemes of work used in KS3 help to promote individual artistic styles which can then be transferred into KS4.
Year 7 and 8 carry out experimental work to enthuse and develop individual styles and give pupils the opportunity to develop a lifelong interest and appreciation of creative works.
Once students have entered Year 9 they continue to develop skills in more detail allowing them to enhance their skill set to an individual style ready for key stage four.
Art at Oaklands is enjoyable and achievable, with outstanding facilities to help support every learner.
We aim to deliver a high-quality art and design scheme of work that engages, inspires and challenges pupils to invent and create their own works of art, craft and design.
We offer the opportunity for all pupils to learn about great artists, craft makers and designers, and understand the historical and cultural development of their art forms.
Key Stage Three Overview 2023 - 2024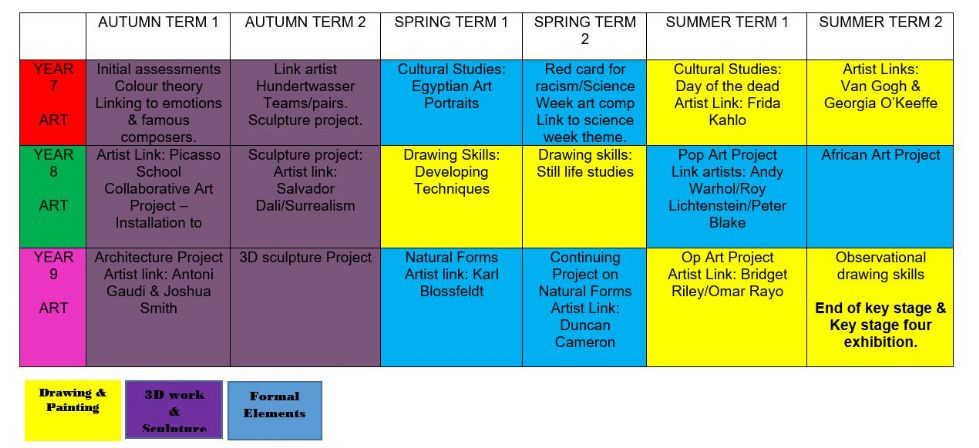 Key Stage Four Overview 2023 - 2024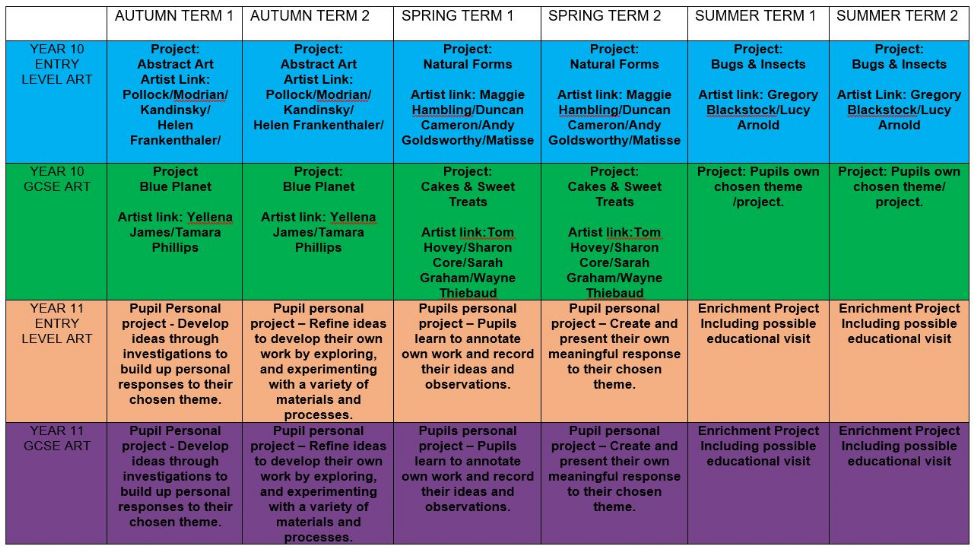 We offer a range of different educational visits across both key stages three and four. This includes trips to museums and galleries and we are often sourcing new places to visit to enable our pupils to broaden their knowledge and interest within the subject.
Visits include -The educational library, Winsford, The World Museum, Liverpool, The Lowry Centre, Manchester, The Walker Art Gallery, Liverpool, The Tate Gallery, Liverpool, and local churches for observational drawing skills. We strive to update these opportunities for our pupils each year.
We also offer visiting artist workshops within the art department.
Year 10 – June 2024 – Caroline Gregson – Local willow sculptor whom we have the opportunity to work with yearly, giving our pupils a range of skills to create sculptures using natural materials.
For further information on Caroline and her work please click the link below.
https://www.carolinegregson.com/
Lunchtime Clubs:
We offer a variety of clubs over the art department to help enhance and develop skills, opportunities or just to have fun!
Our current clubs are below.