Lunch Menus
Lunch Menus September 2023:
Please see the Week 1, 2 and 3 menus which will be running from September 2023. Please also check the allergens poster and contact school if you wish to discuss your childs allergens or dietary requirements.
From September 2023 the cost of a school dinner will be £2.85 per day or £14.25 per week which van be paid via schoolmoney.
Edsential Catering:
Edsential catering have been providing the catering service for Oaklands since September 2021.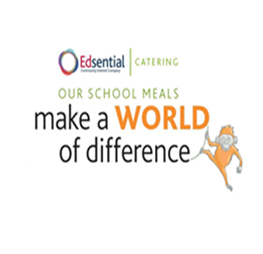 Edsential provides a full catering service to 150 schools across Cheshire West and Chester and Wirral producing over 23,000 meals every school day. Our service brings a fresh and energetic approach to providing top quality meals during lunchtime and at other times during the school day, delivering a whole school approach to provision of food.
Our mission is to provide high-quality Catering Services by offering a range of appetising and nutritious menus. We cater for cultural and dietary needs allowing all customers to have choice and we operate service flexibility, always driven on aspiring to meet and satisfy all our customers.
Our purpose is to provide children with healthy, high quality, affordable food choices that will help them perform well in school. Our aim is to achieve the best for your school, your students, staff, and governors, nurturing positive customer relationships, empowering a skilled workforce, and driving a culture of high expectations.
Enjoying food and eating sociably is a valuable part of understanding and developing a healthy lifestyle. We believe an empty plate is exceptional value.
Quality Food using Quality Ingredients

Our school meals are ethically sourced and environmentally friendly, and we were the first in the world and we are still the only school catering provider to only use certified sustainable palm oil in our meals.
We were very aware that palm oil production can have a very damaging effect on forests and land in tropical countries where palm oil is produced, affecting the habitat of many species including orangutans. Alternatives to palm oil also have their issues so we started to look at finding palm oil produced from sustainable sources.
Edsential works closely with Chester Zoo and is part of the Chester Sustainable Palm Oil City Project. These partnerships inspired the business to work with all its suppliers to ensure that 100 per cent of food ingredients and products contain palm oil from responsible and sustainable sources.
We guarantee that our food meets a host of accreditations and National Food Standards, which ensures it can support local businesses and reduce food miles with locally and ethically sourced ingredients.
We are also proud to be accredited by the Soil Association "Food for Life" food is served in all our primary schools. Therefore, you can be assured that all our food adheres to the following guidelines:
All meat is "Red Tractor" assured. This ensures food and drink is traceable, safe to eat, produced responsibly and British... plus meets animal welfare and environmental guidelines.
All our meat comes from Birtwistles butchers, traditional local butcher based in Northwich. This ensures we can trace top quality meat form "Field to Fork" in line with the "Red Tractor" standards. View our Nature to Nurture video at Edsional.com/catering
We only use Red Lion eggs. The scheme provides an assurance that hens and their eggs meet stringent international standards: are British and not reared in cages.
Our food is assured by the RSPCA, who are dedicated to farm animal welfare. This ensures that the food we use comes from farm animals that were treated with compassion & respect throughout their lives.
All our fish is certified as "Fish to Eat"- meaning it is sourced responsibly and comes from a certified sustainable fishery. This protects and safeguards seafood supplies. MSC-C-54995.
Please note that the menus below cover a three week period beginning on Monday 4th September 2023 and are subject to change as and when required. The menus operate on a 3 week cycle.
Available every day: Unlimited salad, freshly baked bread, organic yogurt, fresh fruit platter, milk and chilled water.
Please do not hesitate to contact school if your child has any dietary requirements.