Music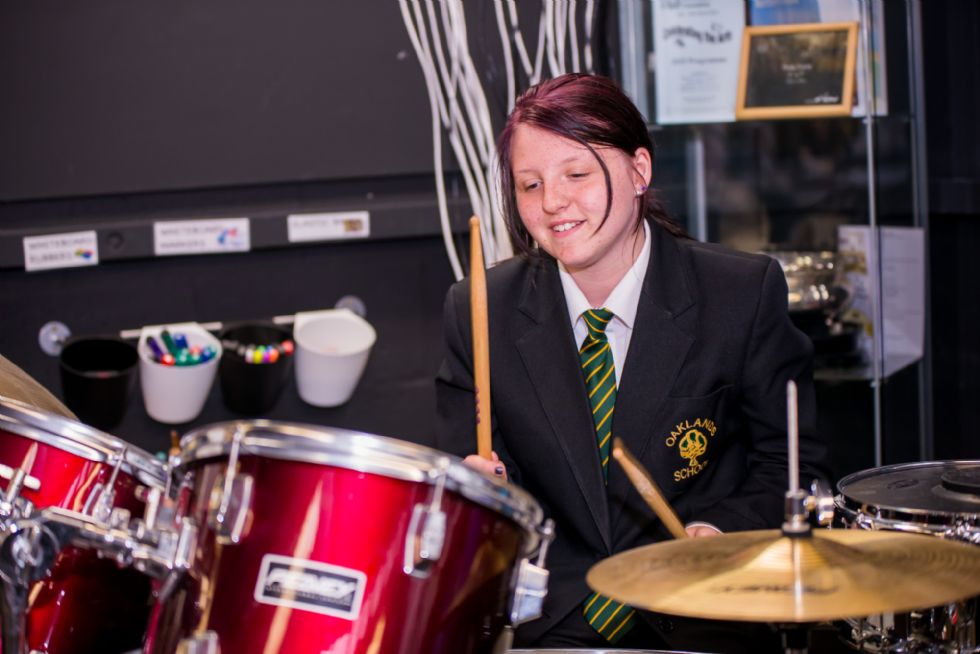 Team
The music team consists of one full time and experienced qualified teacher and four specialist peripatetic music tutors. All classes have support staff in each session.
Achievement and Progress
On entry students are assessed so that planning is supportive of the individual student needs and so that all staff are aware of the learning styles and requirements of each student. Student progress is then closely monitored throughout the school year to ensure that targets are met and interventions can be introduced as required. Pupils are assessed through everyday teacher assessment and focuses on the practical aspects alongside the theoretical aspects of music. All results recorded are used to track pupil progress and ensure that targets are met.
Curriculum Overview
Music is taught to all pupils in Key Stage 3. All classes have two periods per week and covers a variety of topics as stated in the National Curriculum. The schemes of work are taught to expand and develop pupil's experience of all genres of music. Topics are taught orally, visually and kinesthetically. ICT is used frequently within music sessions to enhance the learning of pupils. Topics covered include; music theory, the history of music, composers and classical studies, graphic scores and composing music. Year 7's have whole class Djembe drumming every week, which aids their enthusiasm for the subject. Below is an example of programme of study.
Autumn Term One
Autumn Term Two
Spring Term One
Spring Term Two
Summer Term One
Summer Term Two

YEAR

7

Introduction to
MUSIC NOTATION/basic theory (crotchet, minim, dotted minim, semibreve.)
VALUES of music notation
E-Chalk to develop pupils skills and THEORETICAL techniques

THE HISTORY OF MUSIC - Timeline of composers - the four periods or music from the 1600's
CLASSICAL STUDY & composer (information, characters, instruments) PETER AND THE WOLF / PROKOFIEV. Composer biography.
Instrument families of ORCHESTRA (Strings, Percussion, Brass & Woodwind)

MUSICAL INSTRUMENTS(RECORDER, voice, tuned and untuned percussion)
Notes B, A & G on the Recorder.
PERFORMING to each other on the recorder

Exploring PULSE & RHYTHM, (tempo, timbre) - transferring these skills to the instruments
Body PERCUSSION

LISTENING AND APPRAISING using the theoretical musical language learned (Classical, Jazz, Popular, Theatre, Rock, Opera, Early, African)
COMPARING AND CONTRASTING different styles of music using basic terminology. Give personal OPINION on pieces of music.

ELEMENTS OF MUSIC - exploring the use of graphic scores
IMPROVISE AND COMPOSE simple four bar melodies, rhythms (body percussion &(percussion instruments)
Selecting MUSICAL INSTRUMENTS to be used within a graphic score.
PERFORMING a graphic score to the rest of the class.

YEAR

8

THE HISTORY OF MUSIC - Timeline of composers - the four periods or music from the 1600's
CLASSICAL STUDY composer information, musical elements, purpose CARNIVAL OF THE ANIMAL/SAINT - SAENS. Composer biography.
Instrument families of ORCHESTRA (Strings, Percussion, Brass & Woodwind)

MUSIC THEORY to the next level (-recap of note names & lengths CROTCHET, MINIM, DOTTED MINIM, SEMIBREVE)
Introduction of new note QUAVER VALUES of music notation
E-Chalk to develop pupil skills and THEORETICAL techniques

LISTENING AND APPRAISING using the theoretical musical language learned (classical, jazz, popular, theatre, rock, opera, early)
COMPARING AND CONTRASTING different styles of music, using broader musical terminology

ELEMENTS OF MUSIC exploring the use of graphic scores
IMPROVISE & COMPOSE simple 4 beat phrases, rhythms (body percussion and percussion instruments)
PERFORMING a graphic score to the rest of the class.

MUSICAL INSTRUMENTS (RECORDER, voice, tuned and untuned percussion)
Notes B, A & G on the recorder
PERFORMING to each other on the recorder
IMPROVISING short tunes containing B, A and G)

Exploring PULSE & RHYTHM, (tempo, timbre) - transferring these skills to the instruments
Body PERCUSSION

YEAR 9

MUSIC THEORY to the next level (recap of note names & lengths QUAVER, CROTCHET, MINIM, DOTTED MINIM, SEMIBREVE)
Introduction of new notes (DEMISEMIQUAVER, SEMIQUAVER, DOTTED CROTCHET)
E-chalk to develop pupils skills and THEORTICAL techniques

ELEMENTS OF MUSIC - exploring the use of graphic scores
IMPROVISE & COMPOSE simple 4 beat phrases, rhythms (body percussions and percussion instruments)
PERFORMING a graphic score to the rest of the class
CONDUCTING a graphic score

Exploring PULSE & RHYTHM, (tempo, timbre) - transferring these skills to the instruments
Body PERCUSSION
COMPOSING rhythms (-maintaining a steady pulse)

THE HISTORY OF MUSIC - timeline of composers - the four periods of music from the 1600's
CLASSICAL STUDY & the composer (information, musical, elements, purpose) THE NUTCRACKER/ TCHAIKOVSKY
Instrument families or ORCHESTRA (strings, Percussion, Brass & Woodwind) which INSTRUMENTS feature in these families

LISTENING AND APPRAISING using the theoretical musical languages learned (classical, jazz, popular, theatre, rock, opera, early)
COMPARING AND CONTRASTING different styles of music, using broader musical terminology
Giving personal OPINION on certain types of music
State the CHARACTERISTICS of various genres of music.

MUSICAL INSTRUMENTS (RECORDER, voice, tuned and untuned percussion)
Notes B, A & G on the recorder
PERFORMING to each other on the recorder
IMPROVISING short tunes cotaining B, A and G