Safeguarding
At Oaklands School, we recognise our moral and statutory responsibility to safeguard and promote the welfare of all our students. We endeavour to provide a safe and welcoming environment where children are respected and valued. We are alert to the signs of abuse and neglect and follow our procedures to ensure that children receive effective support, protection and justice.
Oaklands School is committed to safeguarding and promoting the welfare of children and expects all staff and volunteers to share this commitment. We have a number of policies and procedures in place that contribute to our safeguarding commitment, including our Safeguarding Policy which can be viewed in the Policy area.
Sometimes we may need to share information and work in partnership with other agencies, when there are concerns about a child's welfare. Where possible, we will ensure that our concerns about our pupils are discussed with parents/carers first, unless we have reason to believe that such a move would be contrary to the child's welfare.
We actively support the Government's Prevent Agenda to counter radicalism and extremism.

Safeguarding Team
Headteacher: Mr Neil Oxley
Designated Safeguarding lead and Assistant Headteacher: Tamsyn Bradley
Deputy Designated Safeguarding lead and Assistant Headteacher: Martine Clewes
Nominated Link Governor for Safeguarding is: Simon Davies


Additional Safeguarding Staff
Family Support Worker: Emma Bradford
All staff, volunteers and students are checked by the Disclosure Barring Service (DBS) to ensure their suitability to work with children, that they are appropriately qualified, they are who they say they are and have the right to work in the UK.
Our Safeguarding Policy forms part of a set of documents and policies which relate to the safeguarding responsibilities of the school. We follow the Cheshire West and Chester Local Safeguarding Children Partnership's procedures (link below).
Please see the links below to view our Safeguarding Policy and Safeguarding Visitor Information leaflet.

Operation Encompass
Our school is part of Operation Encompass. This is a police initiative, which supports children and young people who have witnessed or experienced Domestic Abuse. Operation Encompass has been designed to provide early reporting to schools of any domestic abuse incidents that occur outside of school, which might have an impact on a child in school. This is communicated through a secure email or telephone call to school following an incident. The project ensures that the designated safeguarding lead is available to liaise with children's services and the police and to use the information that has been shared in confidence. In this way we aim to support each child who has been involved in, or witnessed a domestic abuse incident.
At Oaklands School, our designated safeguarding leads are: Miss Bradley (Designated Safeguarding Lead), Mrs Clewes (Deputy Designated Safeguarding Lead) and Mr Oxley (Headteacher), The Operation Encompass information is stored in line with all other safeguarding and child protection information.
If a designated safeguarding lead receives an Encompass notification they will make sure that a person the child trusts is available to help – if the child needs this. All schools have a duty to share any information with other organisations if they feel a child is at risk of being hurt. The designated safeguarding lead may contact other organisations.
If you would like more information about Operation Encompass, details can be viewed online at www.operationemcompass.org
Safeguarding:
Oaklands School is committed to safeguarding and promoting the welfare of children.
We recognise that this may be a difficult time for some families. If you need to speak to a member of staff, please contact the school office during working hours (term-time only).
Email: Office@oaklandsschool.org
Telephone: 01606 551048
If you have any concerns regarding your family's safety, then act appropriately by contacting the relevant emergency numbers or social care where necessary using the contact details provided below.
Our local safeguarding contact numbers are:

Safeguarding of children concerns
(Children living in Cheshire West)

Cheshire West:

0300 123 7047

Integrated Access and Referral Team (i-ART).

01244 977277 (Out of Hours Service)

Safeguarding of children concerns
(Children living in other Authorities)

Cheshire East:

0300 123 5012 option 2

Cheshire East Consultation Service

0300 123 5022 (Out of Hours Service)

Flintshire:
01352 701 000
0345 053 3116 (Out of Hours Service)

Wrexham:
01978 292 039
0345 053 3116 (Out of Hours Service)

Police (Emergency)

Police (Non Emergency)

999

101
Helpline Supporting People's Mental Health: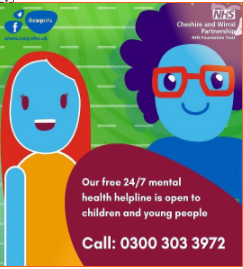 Local NHS Trust, Cheshire and Wirral Partnership (CWP), has a mental health helpline.
Open 24 hours a day, seven-days a week, it is open to people of all ages including children and young people who need urgent mental health support. The helpline - 0300 303 3972.
What to do if you need urgent mental health help:
Please call 0300 303 3972 and our dedicated local NHS staff will support you to access the help you need
The helpline is open 24 hours a day, seven days a week and is open to people of all ages – including children and young people
The helpline is now the first port of call for mental health help – it is operated by people in your local area who will know how best to support you. If you call NHS 111 you may have to wait longer for help and will be re-directed to this local service – so call 0300 303 3972
Please note, A&E and 999 are not the best places to get help for the majority of mental health problems – call 0300 303 3972 to be directed to the best local service to support you
You should still call 999 or go to A&E if you have an immediate, life-threatening emergency requiring mental or physical health assistance
For non-urgent help and general wellbeing advice, the CWP website contains information and links to resources to support people with anxiety, low mood, and worries relating to the current Covid-19 pandemic www.cwp.nhs.uk
For children and young people there is also a dedicated website MyMind.org.uk Advice for parents during coronavirus
Keeping Children Safe in Education 2021
Working Together to Safeguard Children (Department for Education July 2018)
Cheshire West and Chester Safeguarding Children Partnership: Child Protection Procedures

Other useful links
Advice for parents about talking to your child about creating, sending or receiving explicit images:
http://www.nspcc.org.uk/help-and-advice/for-parents/talking-about-sex/sexting/sexting_wda96795.html
Support for parents and carers:
https://www.childnet.com/parents-and-carers
Advice about smartphones, gaming devices, tablets and other internet-connected devices:
https://www.saferinternet.org.uk/advice-centre/parents-and-carers/parents-guide-technology
Child Exploitation Online Protection (CEOP) Centre website for parents and carers:
https://www.thinkuknow.co.uk/parents/
NSPCC
https://www.nspcc.org.uk/
Barnardos
www.barnardos.org.uk
www.educateagainsthate.com
www.childline.org.uk